>Joe Con 2014 pics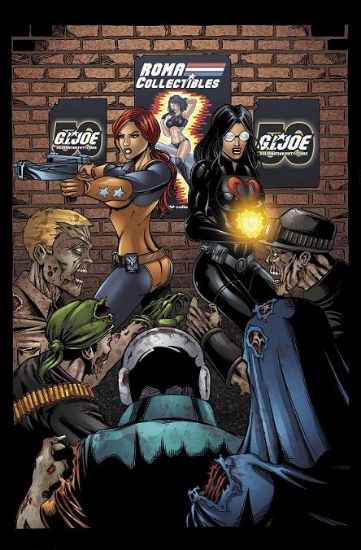 Here's our free exclusive 2014 Poster. We handed 200 of these out to our customers!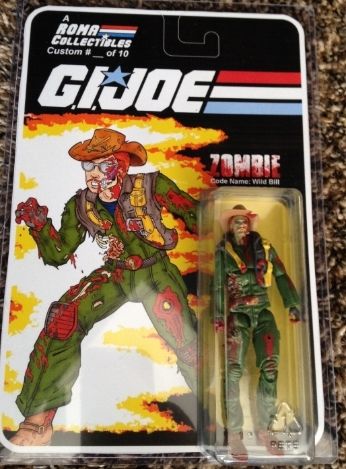 And here's our custom 2014 Figure.
Since the con was in TX and the set was zombie themed..
Zombie Wild Bill was a perfect choice.
We sold ten of these during the con. Did you get one?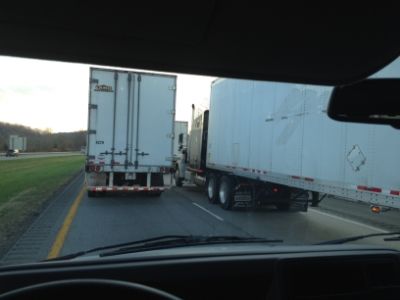 On the 15 hour drive, we hit a little traffic...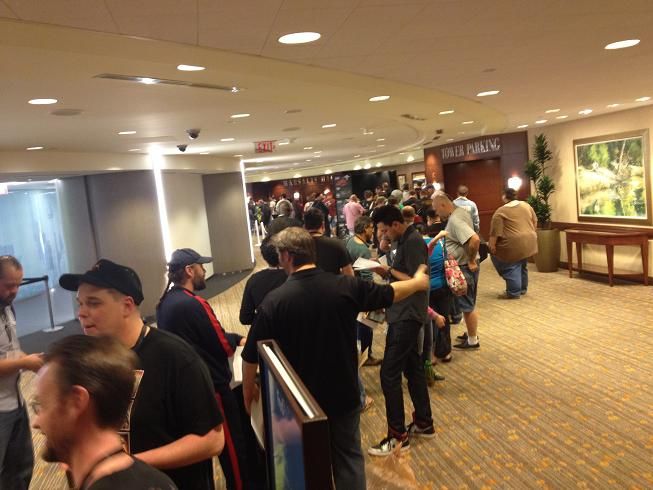 The line to get into the registration room.

and more lines once you get in the room. Ugh.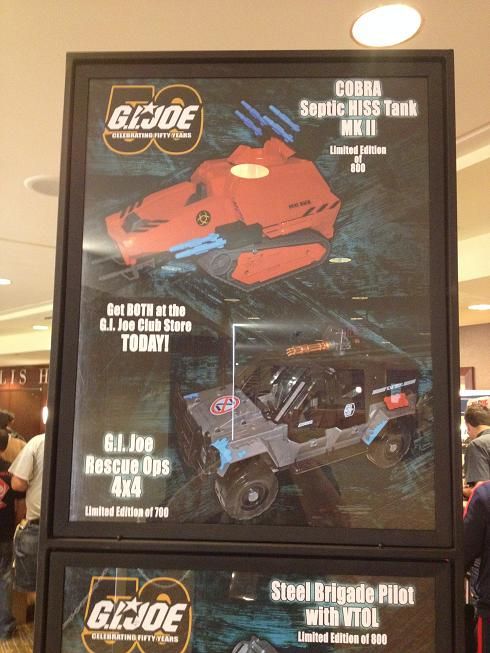 Con Exclusives,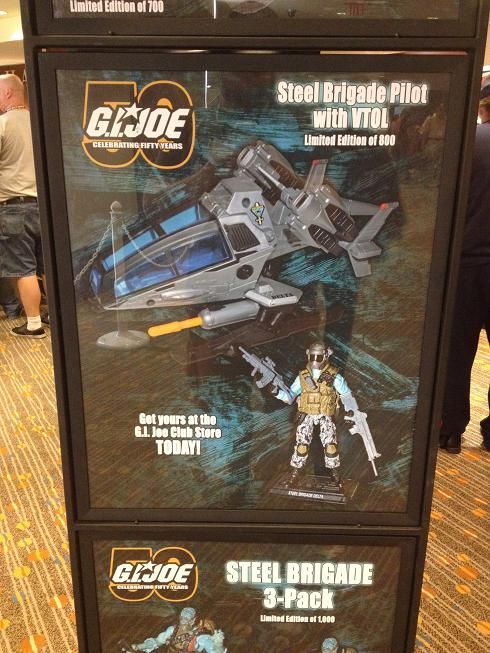 Con Exclusives,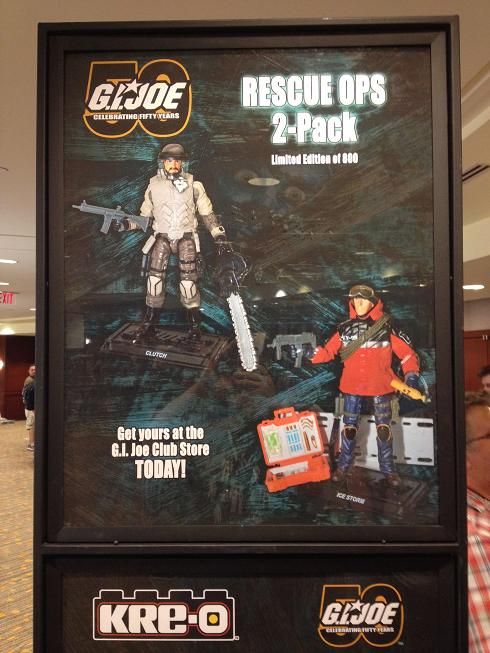 Con Exclusives,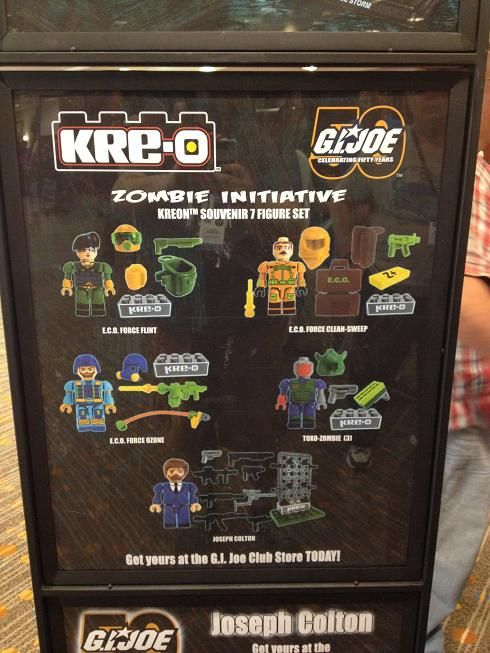 Con Exclusives,

and more Con Exclusives!!!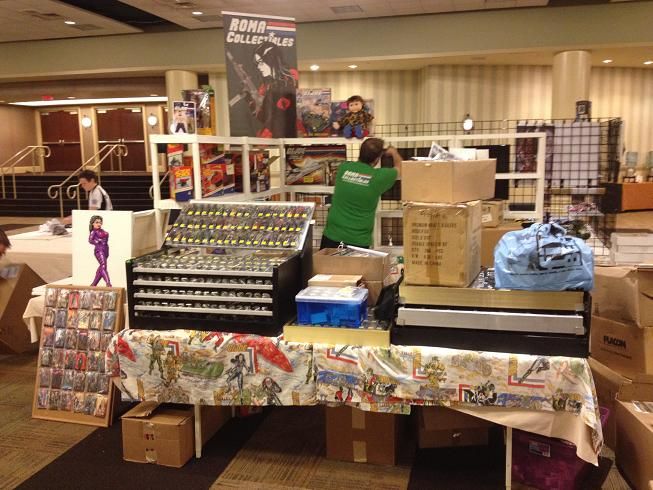 Kenny setting up the booth.

How slick does our new 2014 banner look?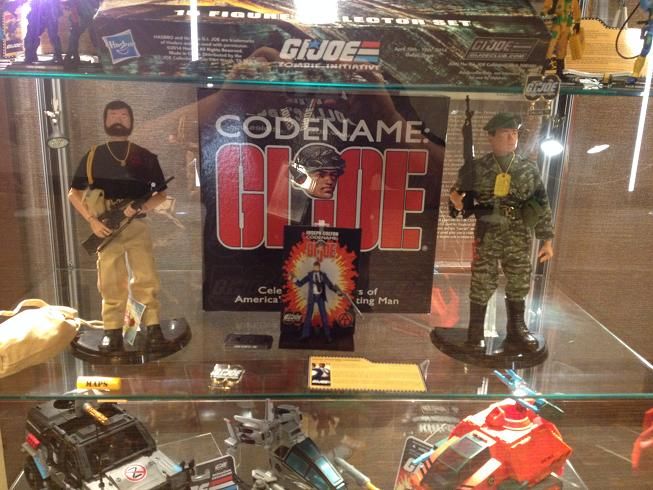 Con Exclusives under glass.

More Con Exclusives under glass.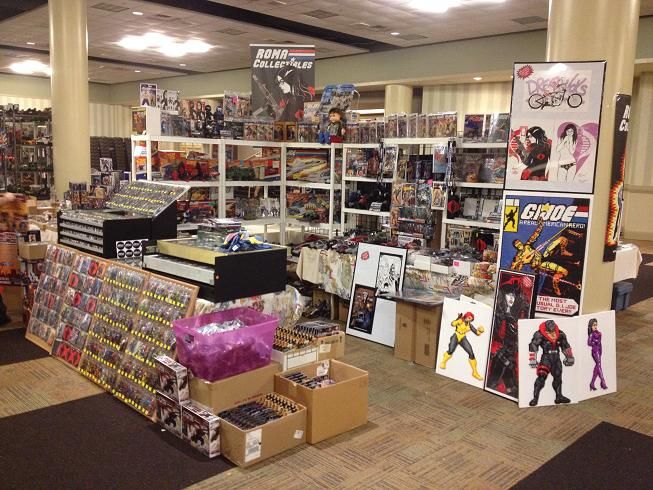 The booth set up and ready to go on Friday afternoon.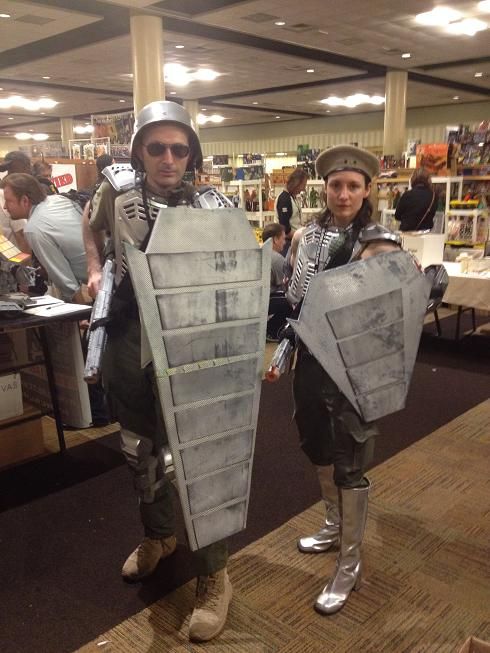 SUPER TROOPERS!

Larry "The Man" Hama signing our Pearler Bead Art!!!

Sara and Des....
err, I mean The Baroness and Scarlett!

The girls having fun.

Baroness and TIGHT SHIP!!!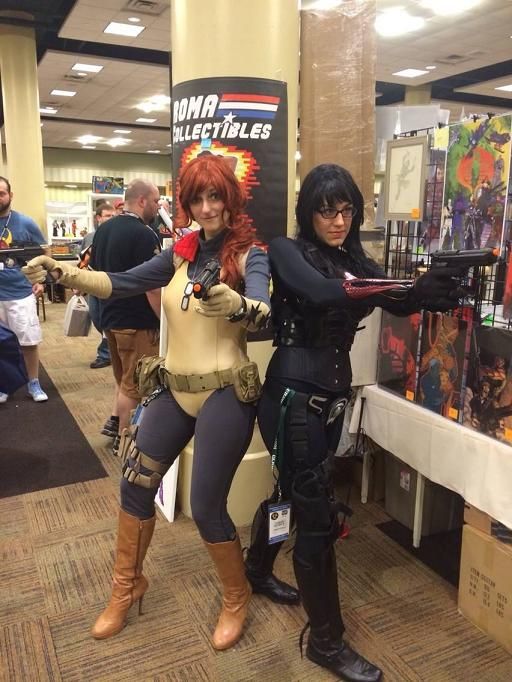 Scarlett and Baroness in the
same pose as our 2014 poster!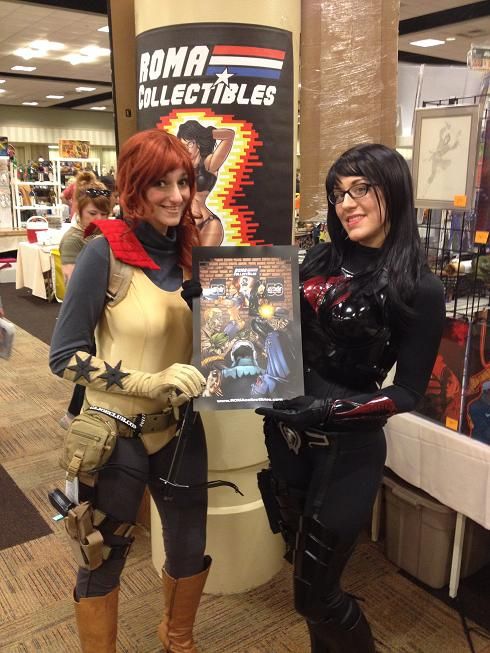 See. Same pose.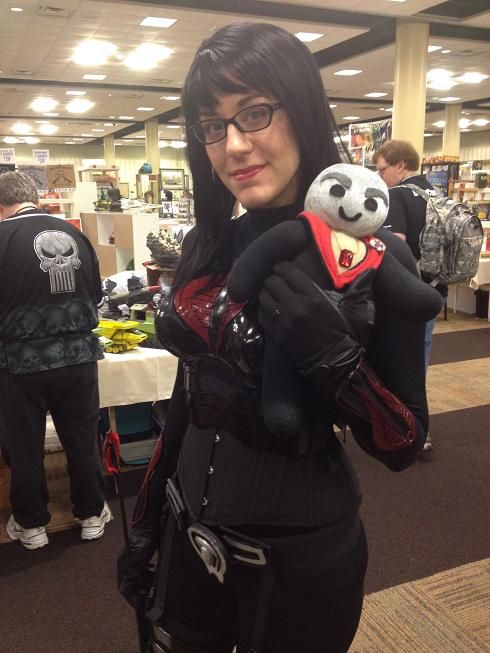 Destro and Baroness!

Baroness and... THE BARONESS Morgan Lofting!
The voice actress for the Baroness in the 80s.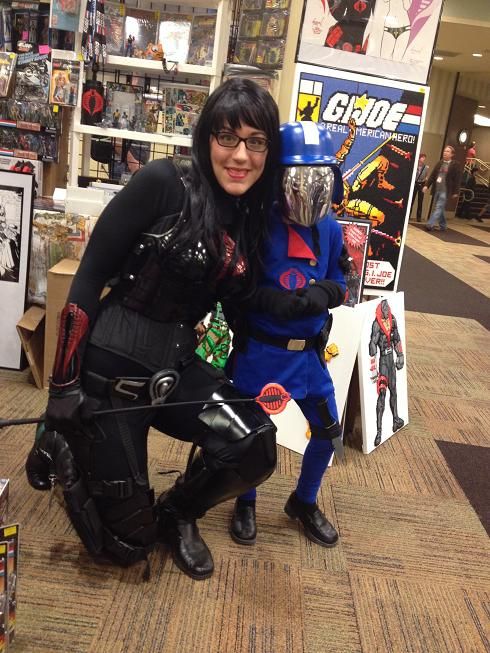 The Baroness and her boss, Cobra Commander.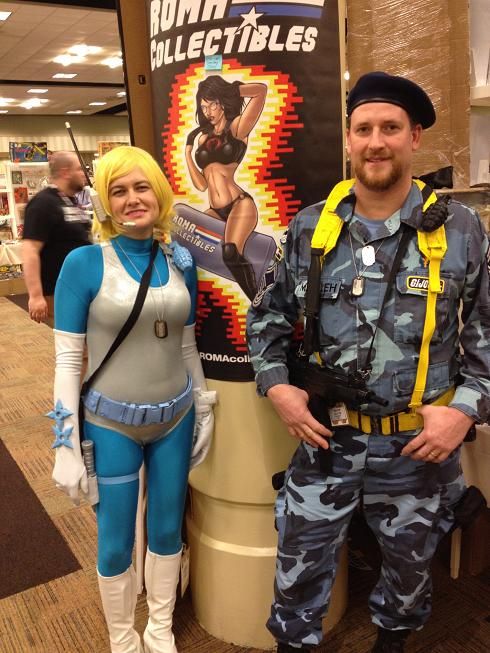 A little Argen 7 action!
Menleh and Glenda!

Zaran bought our Zarana Light switch cover.
I had to get a pic of her with it.

Cobra Commander trying to buy his army!

We missed the Parchute Drop,
but read all about it in the paper.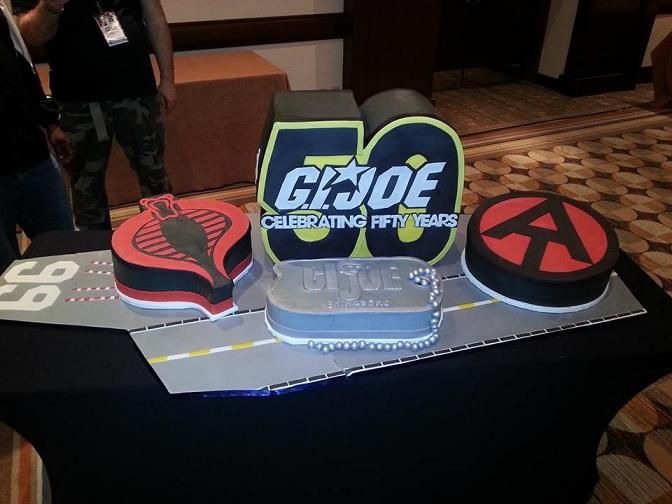 Happy 50th GI Joe!
Mmmm, cake!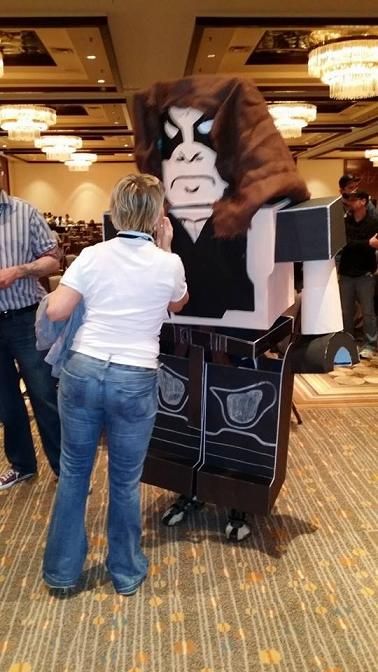 James Kavanough kills it again in the costume contest.
KREO ZARTAN!!!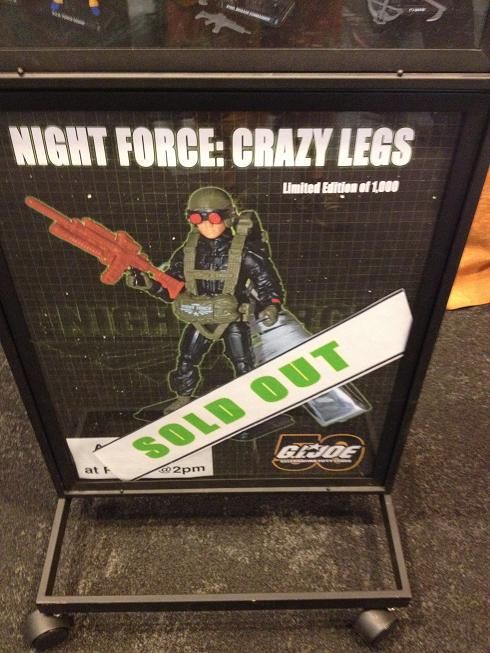 Lets not forget the Crazy Legs Conspiracy...

Some cool customs.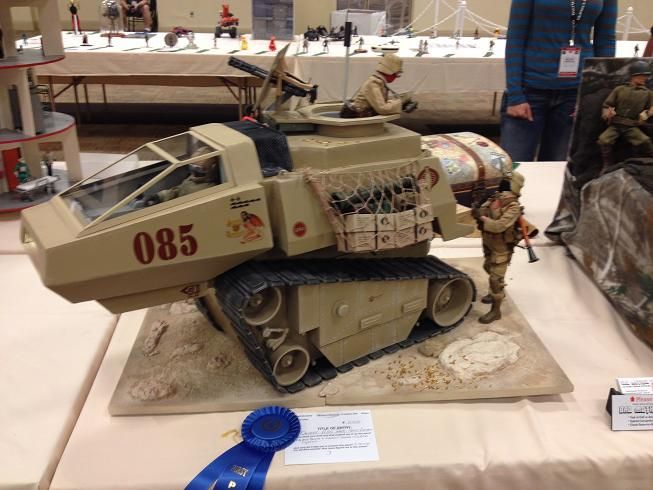 Some cool customs.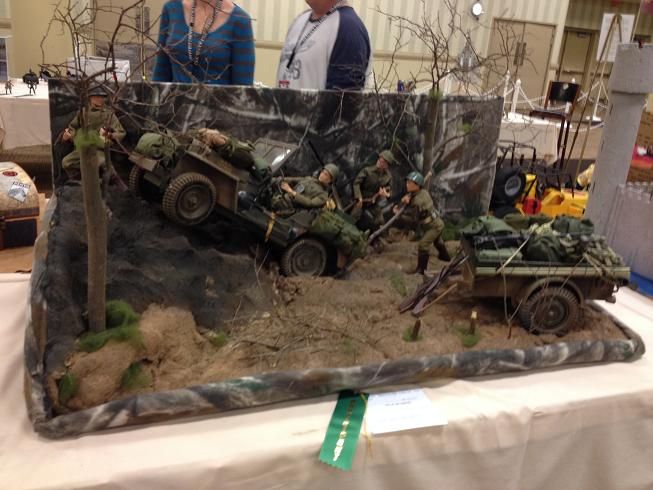 Some cool customs.

Some cool customs.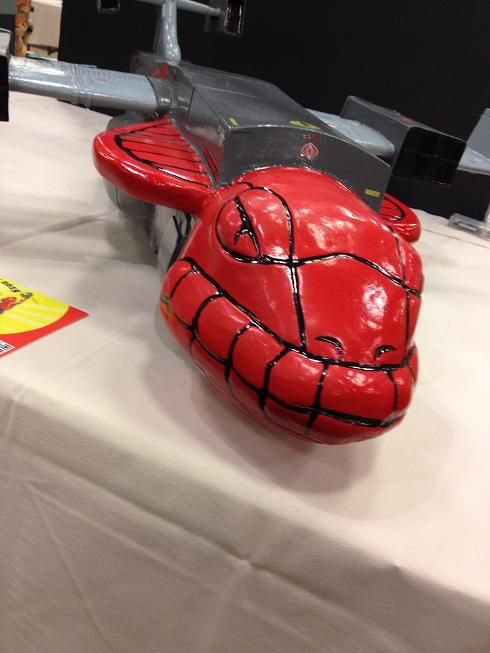 Some cool customs.

BOSS FIGHT STUDIOS in the house!

Seriously, their Vitruvian HACKS line is awesome!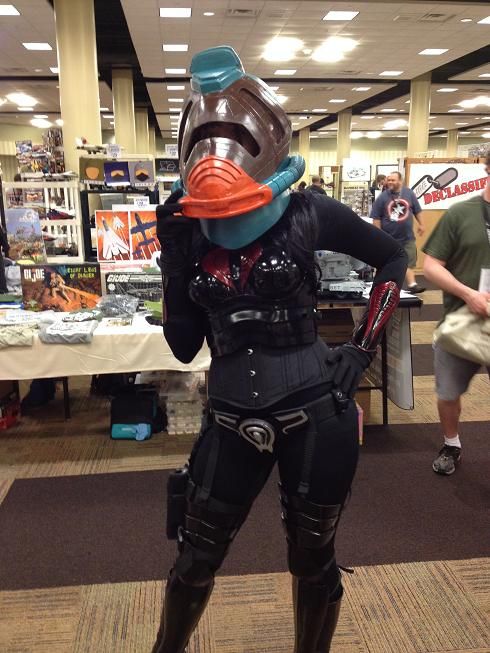 Baroness goofing around with a Toxo Viper helmet.
Cremeans Creations makes some slick costumes.

Dave Tree stopped by to sign some FSS Bombardier figures....

Granted, he had no choice! It was either sign them,
or face the consiquences.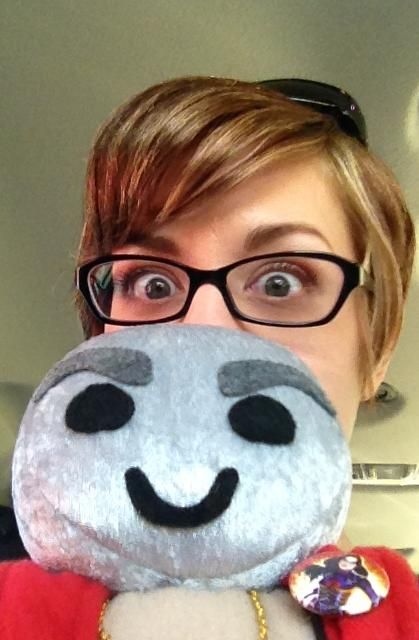 All in all it was another fun Joe Con.
Sara got to wear her costumes all weekend...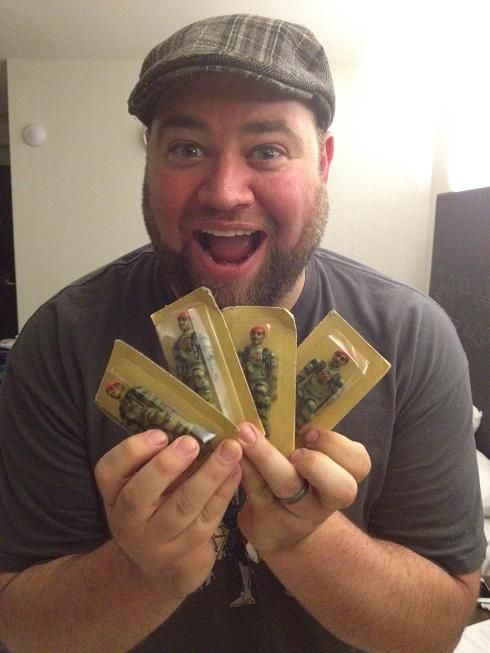 I got to goof around with really expensive figures...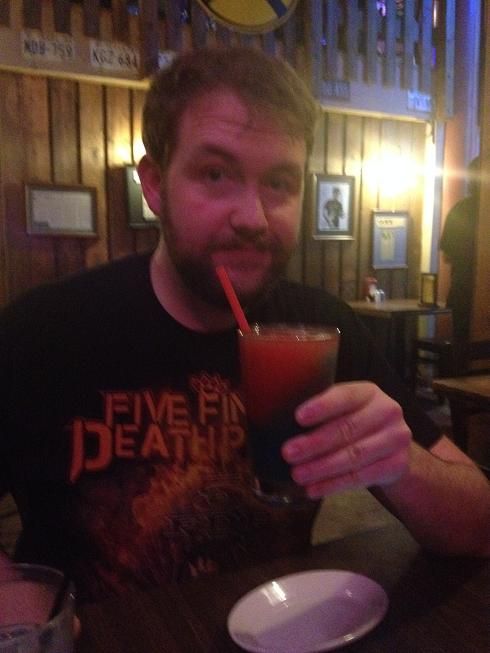 And Kenny got to drink.
We can't wait until 2015 In Springfield, IL!!!
See everyone there!
Joe Con 2013 pics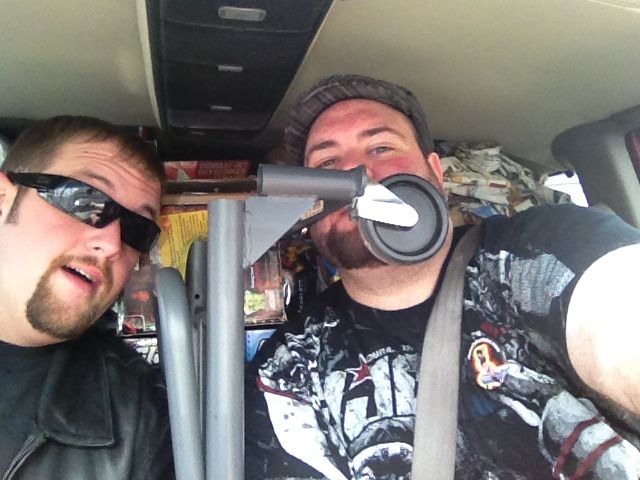 The Van is packed to the brim.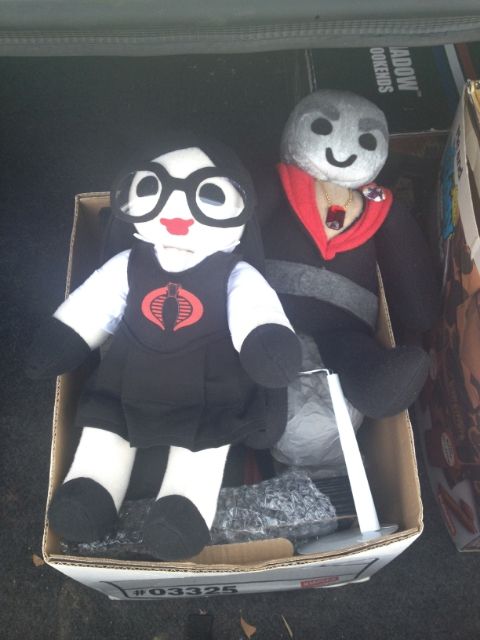 Granted, we did find room for our mascots.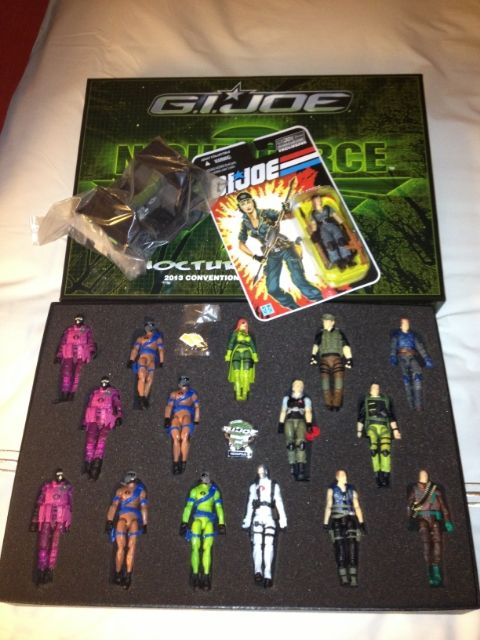 Hit Check-in and picked up some goodies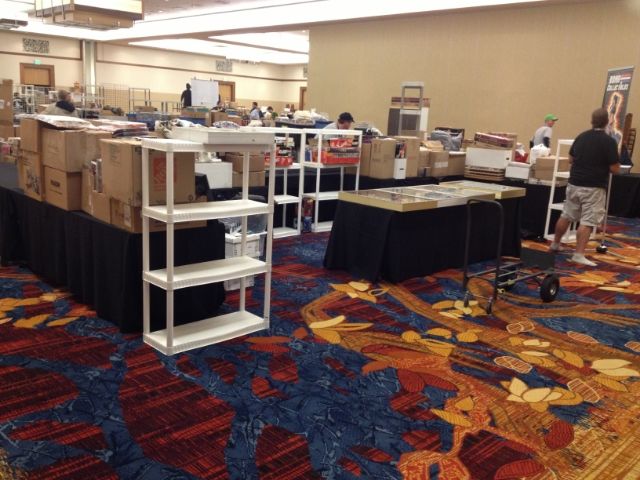 Here's the table right after Thursday Night Drop off.

And here it is Friday Morning after set up,
before the crowd gets a chance at all of it.
.
And honestly, not many pics were taken Friday.
We just didn't have time.
.
So we go straight to Friday Night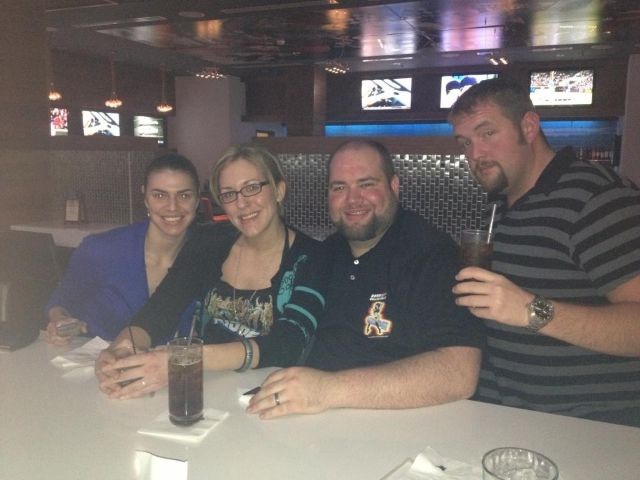 With the arrival of our Booth Babes
Then some late night partying happened....
& Kellen found the Joe Con Info Booth

Look kids! It's James Kavanaugh

Me showing James, and the rest of the world,
How strong I am.

Saturday starts with the girls in costume...

and the arrival of Keel Haul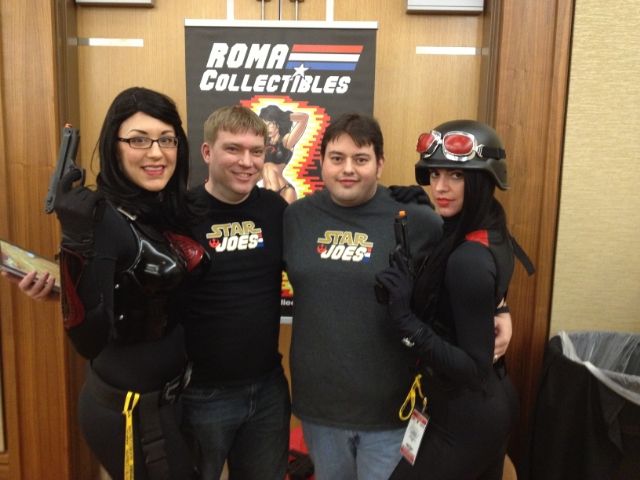 Our friends Chuck and Ryan of Star Joes

Naughty Boys get spanked.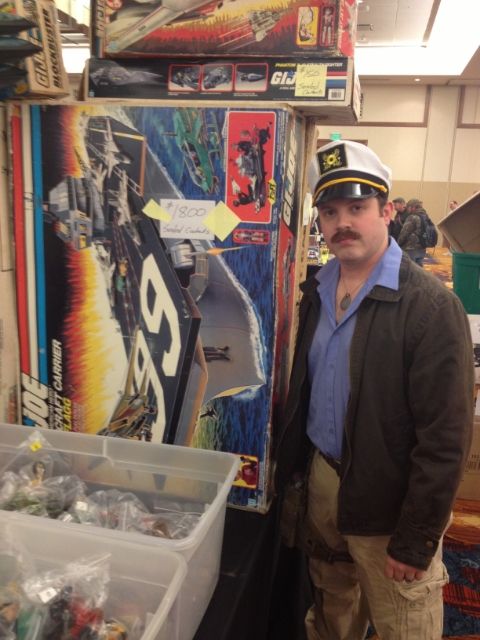 Keel Haul admiring an old friend.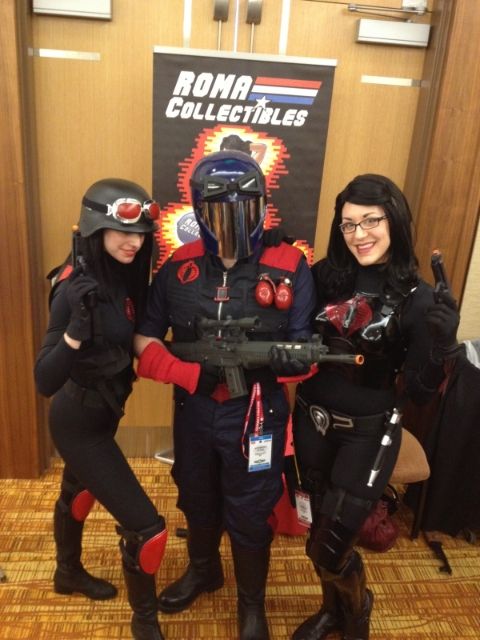 Our Girls with a Cobra Viper...

and a cobra trooper...

and Flint.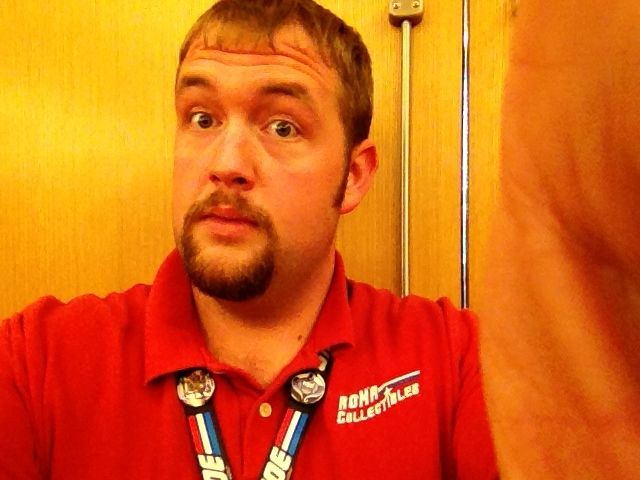 Whoa! Self shot of Cousin Kenny thrown in for good measure.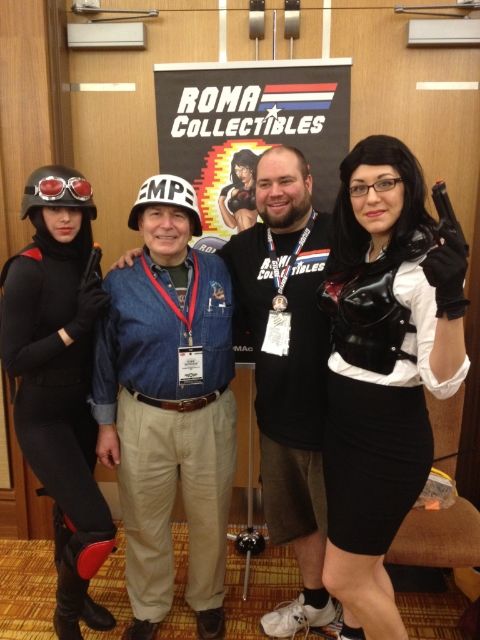 kirk showed up and posed for some pics.

This guy bought my custom Starduster Helmet,
and demanded a pic with the girls...
Keel Haul snuck in.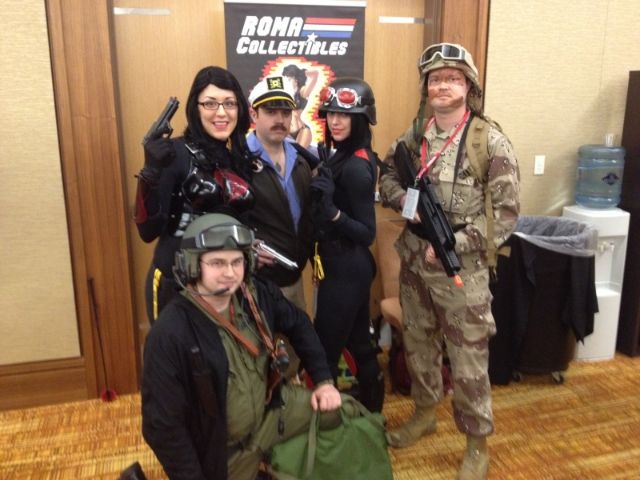 Some great costumes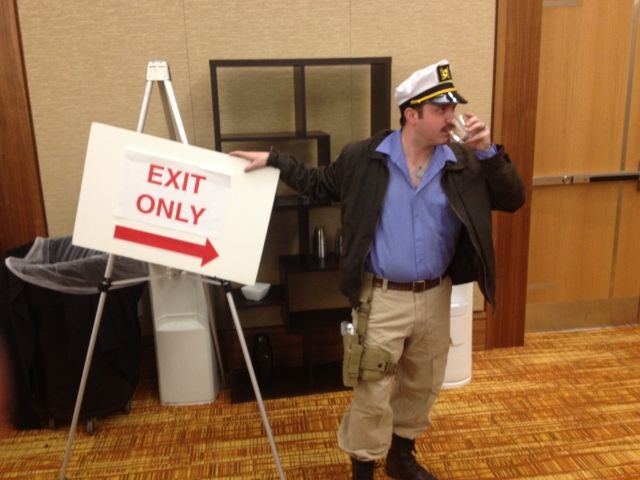 No explanation needed.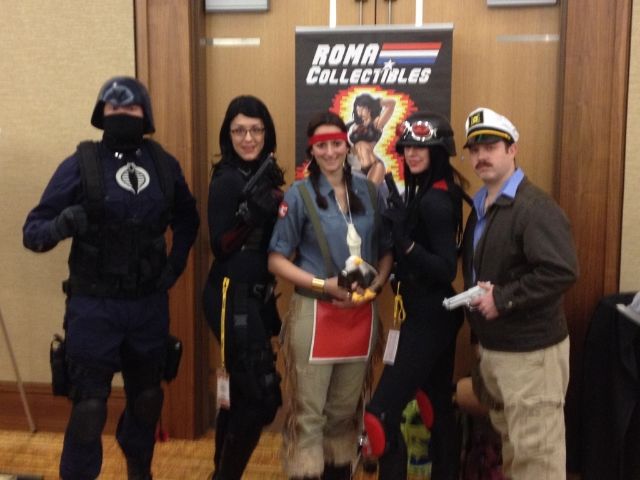 Whoa! Spirit is a chick now?
IDW is screwing everything up!
Ha ha ha!

The Girls capture Keel Haul

Guess who just stopped by the booth?
Brett and Mary, voice actors for
Flint and Lady Jaye!
They snagged some sweet masks of themselves....

and they were kind enough to take a few photos with us..

Uh oh!
Watch out Brett!

Last one with Mary and Brett....
and our buddy Roger of
Captain Cosmos Collectibles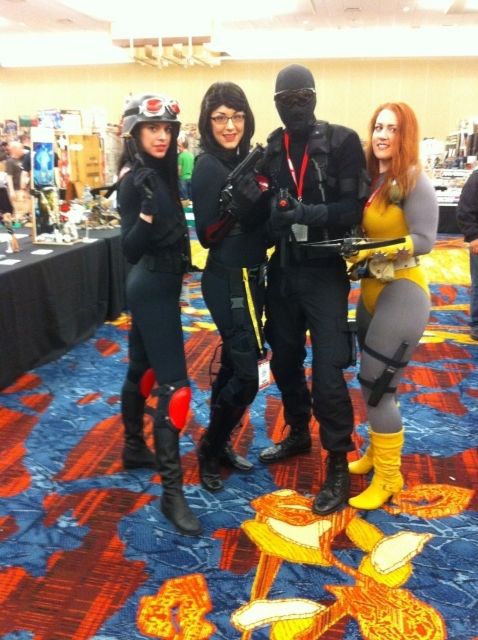 The Girls with Snake Eyes and Scarlett.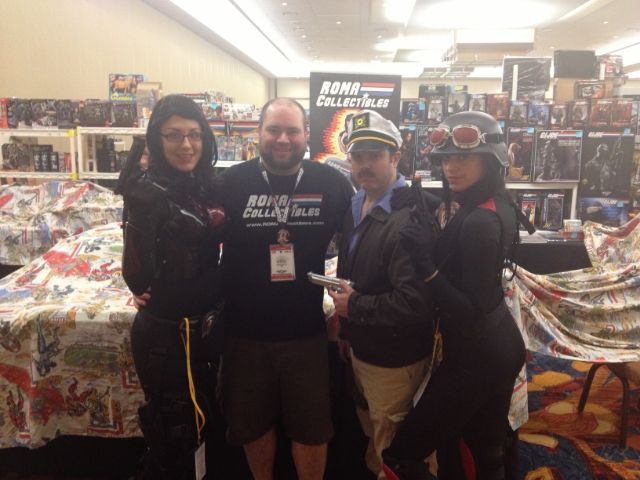 Big thanks to everyone part of the
ROMA Collectibles Family.
Joe Con 2012 pics

On the road to Joe Con

First stop, Cracker Barrel.

Destro vs Cousin Kenny in a battle of wits.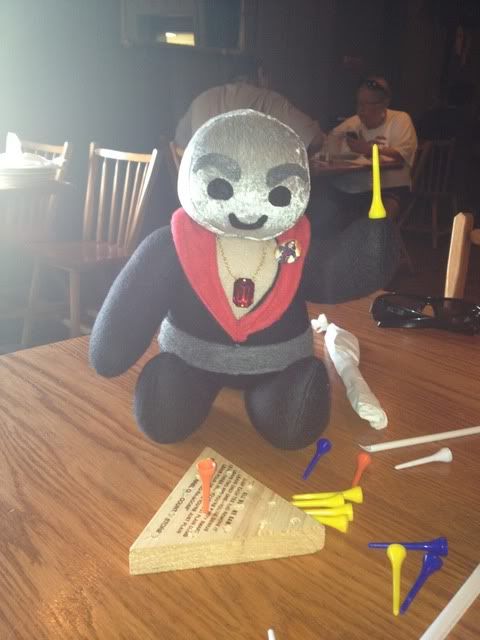 Victory for the McCullan Clan!

Back on the Road. Next Stop, New Orleans

We made it to the Hotel.....
found a few beers.....

and Detro found the Pay Per View Channels....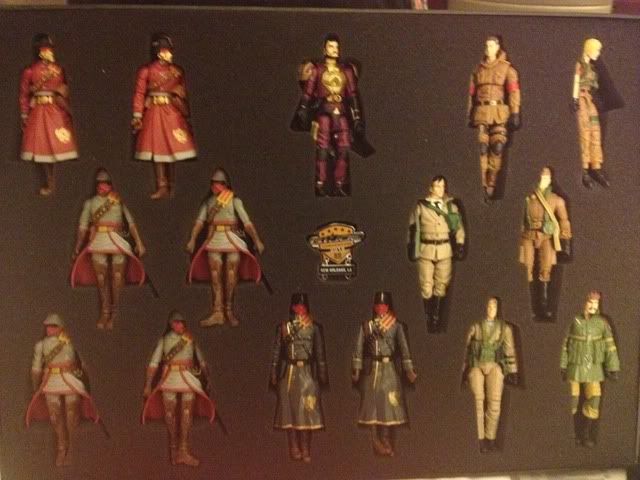 The Con Set.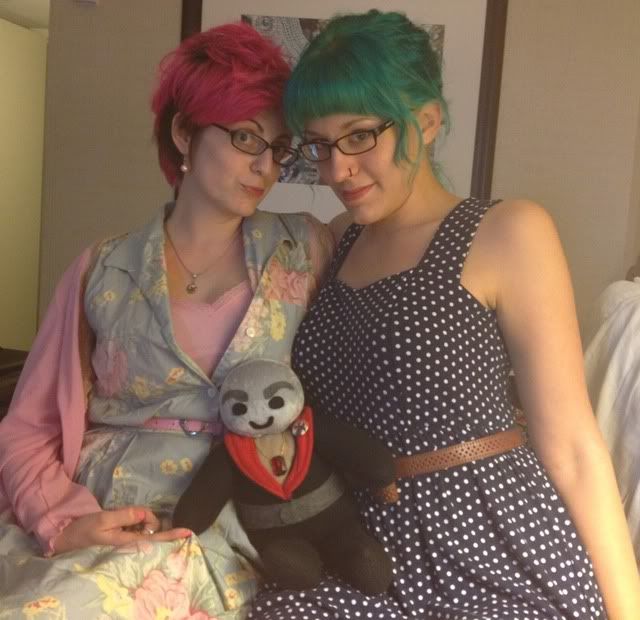 A rare look at our beautiful Booth Babes....
Not in costume!!!!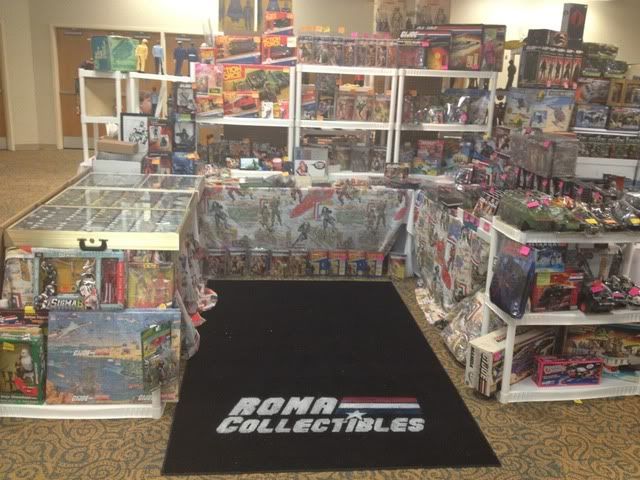 The ROMA Collectibles Booth

The Booth,again, but at an angle.

Our Booth Babes in full Costume. Zarana and Zanya!

We also had Ninja Force Zartan working the booth.

Hasbro Booth

Retaliation Ninja Battle

Kokomo Toys booth was fun place to hang out!

GI Joe Custom Lego Dio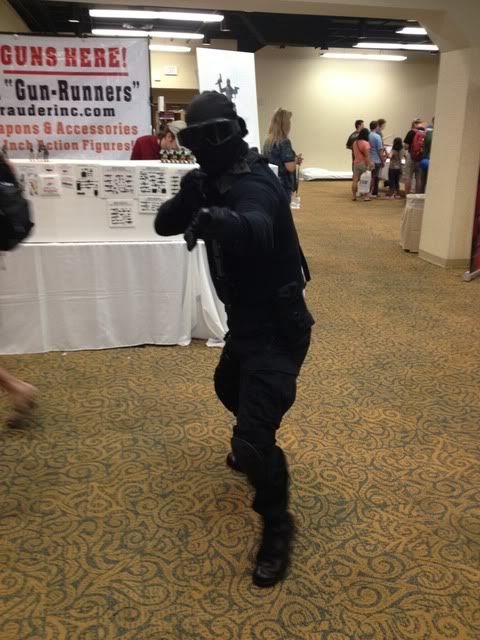 Snake Eyes

Zap, Short Fuze, and Falcon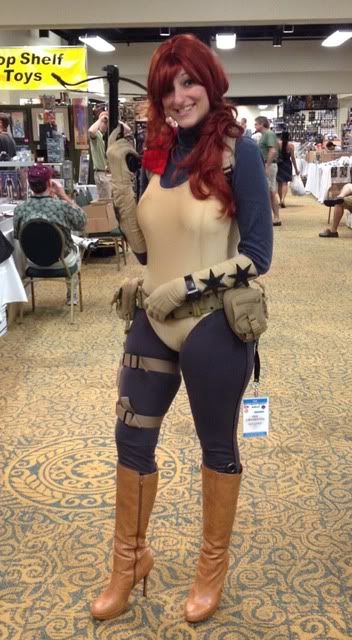 Scarlett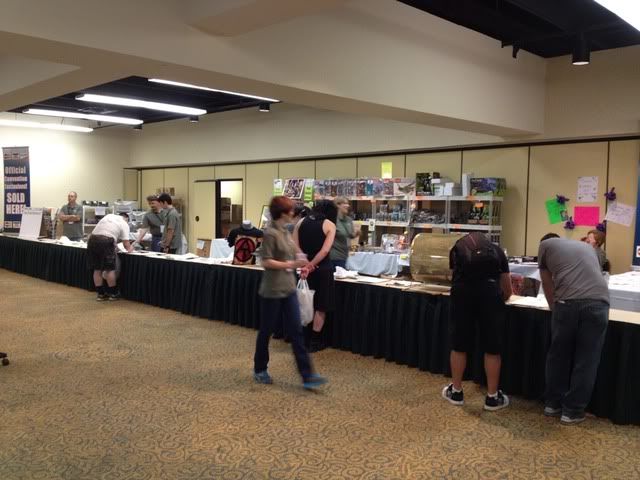 The Club Store

Look at all the Footloose's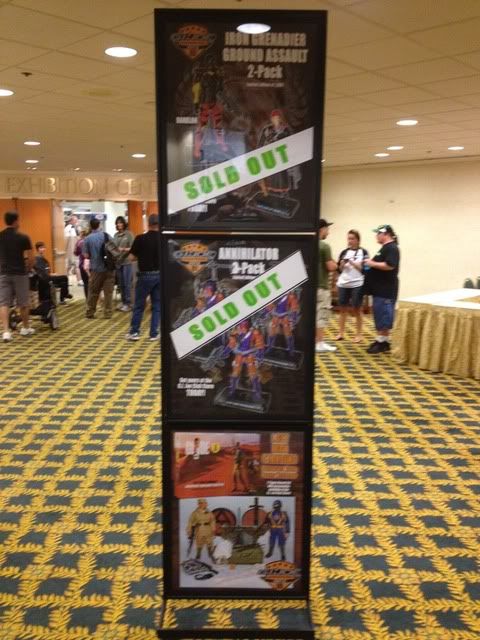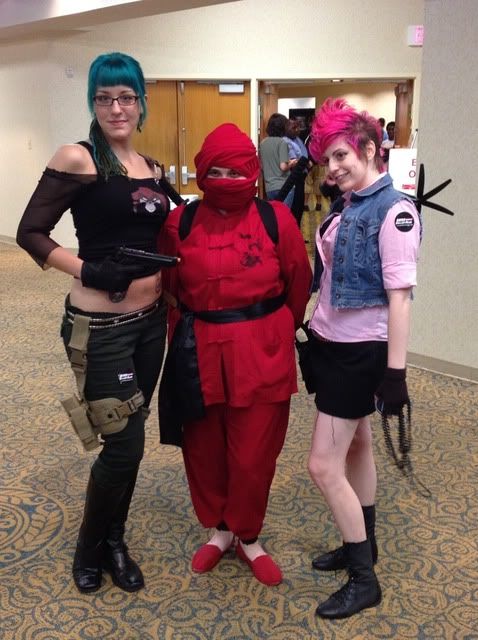 Zanya, Jinx, and Zarana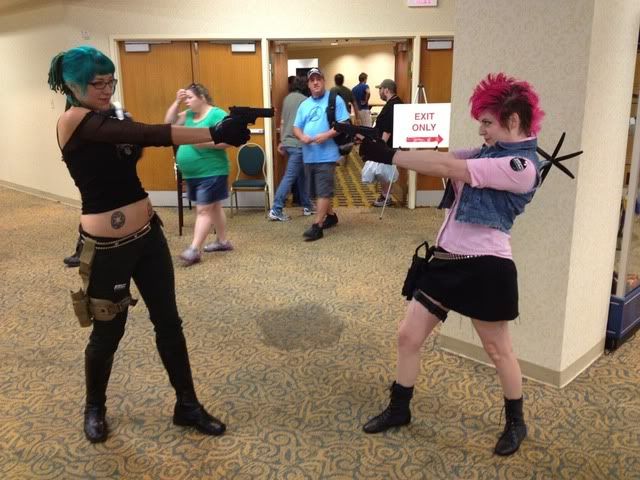 A little family squabble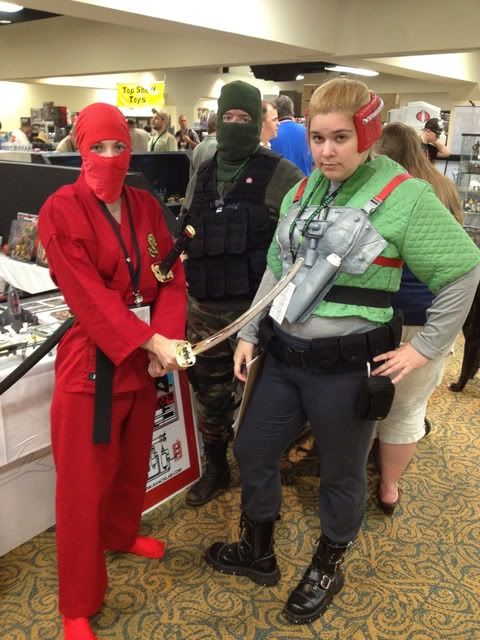 Jinx, Beachhead, and Psyche Out

The man, the myth, the legend,
James Kavanaugh

Steel Brigade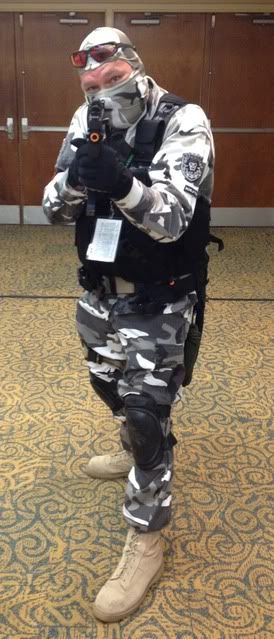 FIREFLY!

The Girls lovin' the SNAKE armor.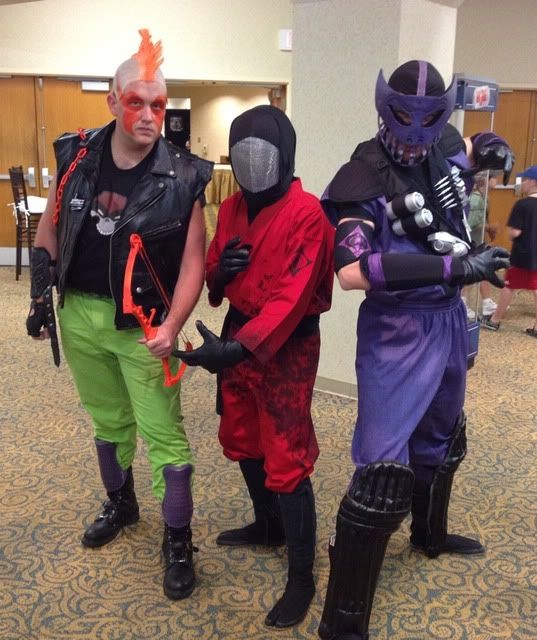 NINJA FORCE!
Zartan, Slice, and Dice

Storm Shadow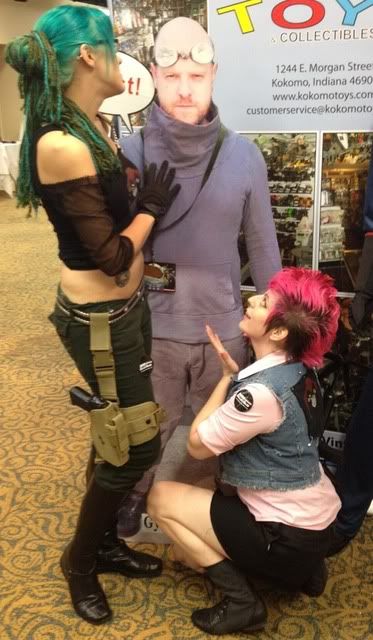 You can't resist the charm of Gyre-Viper,
even in cardboard form.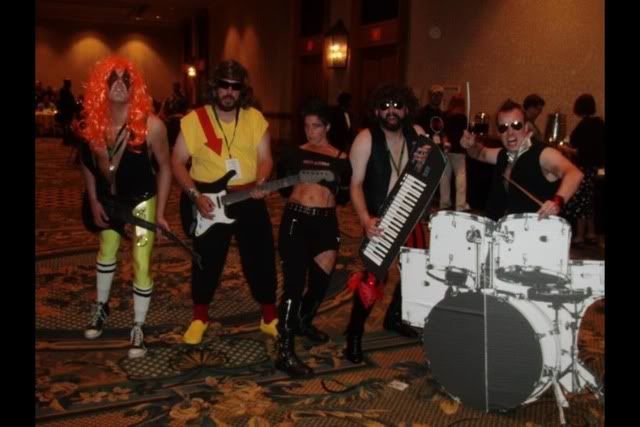 Cold Slither showed up to the dinner....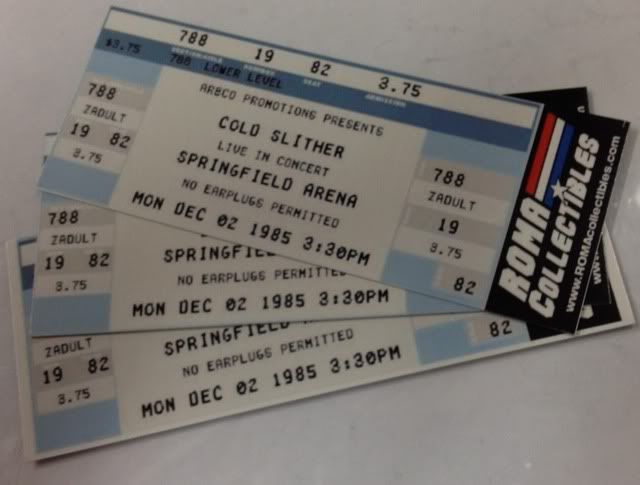 and ROMA Collectibles supplied the tickets.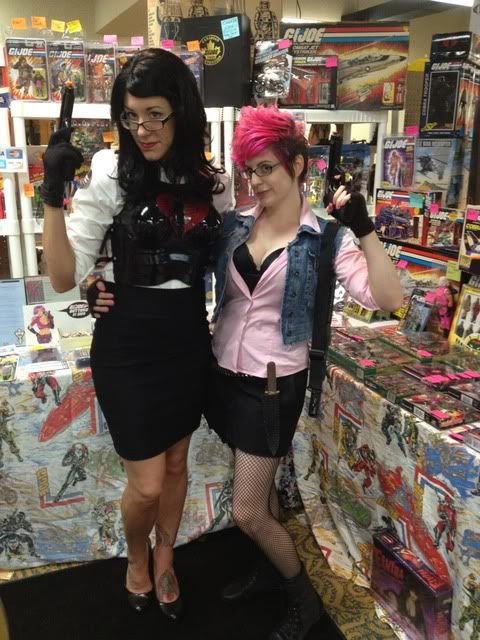 Our booth babes on day 2.
Business attire Baroness, and Zarana.


The Subscription Service Figures (SFF)

Look out Roger!

BEST COSTUME ALL WEEKEND!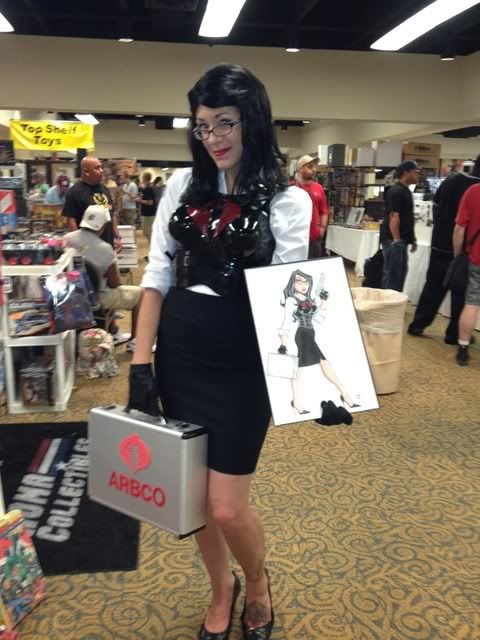 The inspiration to our Business Attire Baroness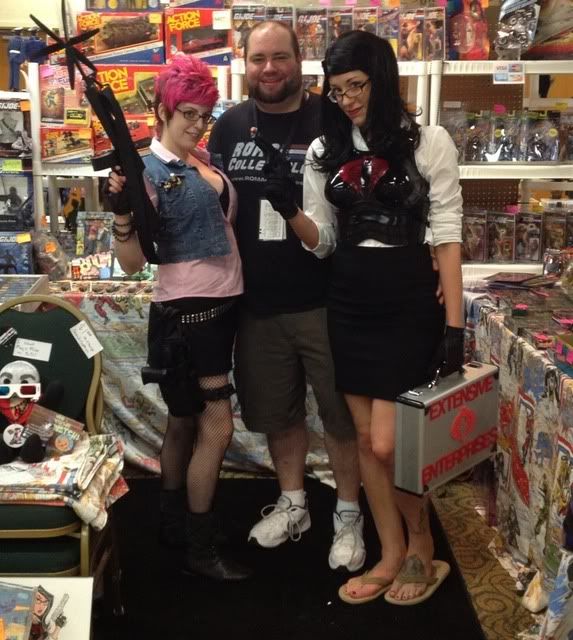 and Finally, me and my girls. I can't thank them enough.
Joe Con 2011 pics

Our beautiful Booth Babes, Zarana and Cover Girl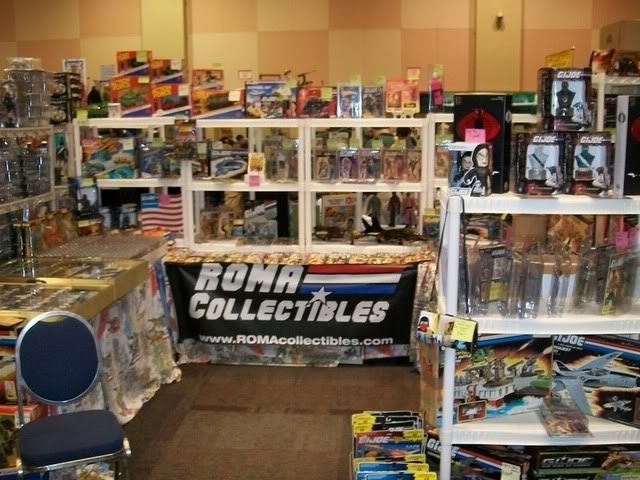 So much GI Joe Goodness to be had.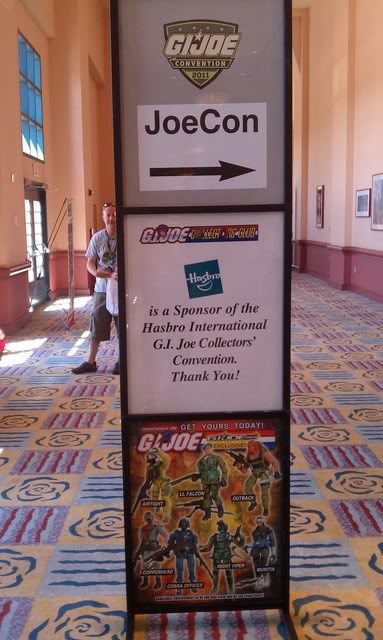 SOLD OUT!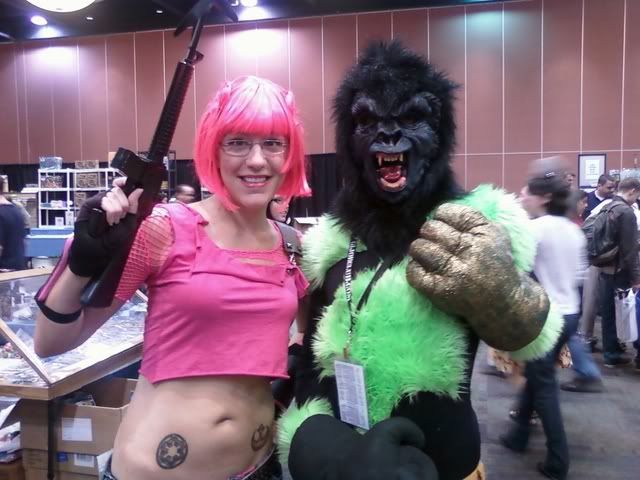 Zarana and Monstro Viper = WIN!

The famous Parachute Drop.

Cover Girl, Baroness, and Zarana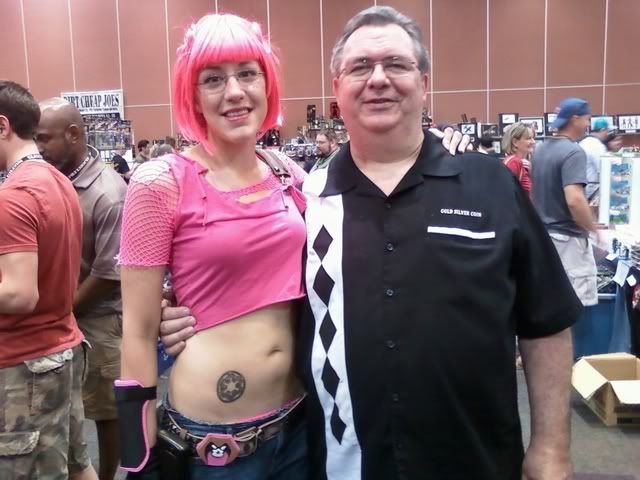 Zarana and Big O

Big O and the Girls

Yes, you are seeing this right. It's Voltar.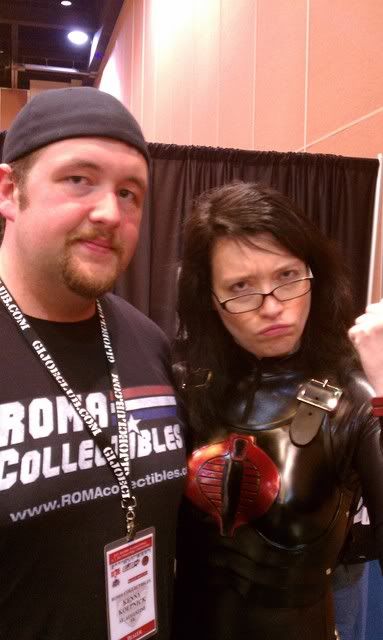 Cousin Kenny and the Baroness

Agent Helix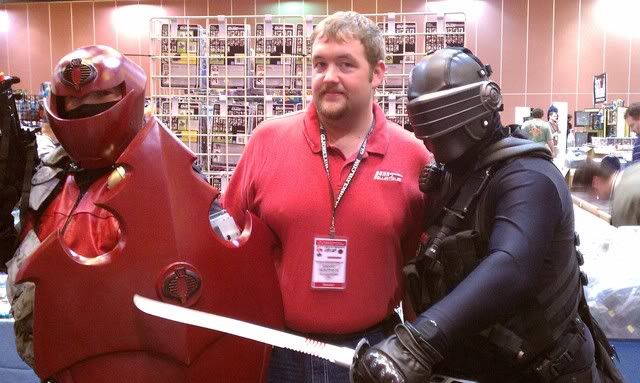 Ally Viper. Cousin Kenny, and Snake Eyes. Who is the more dangerous?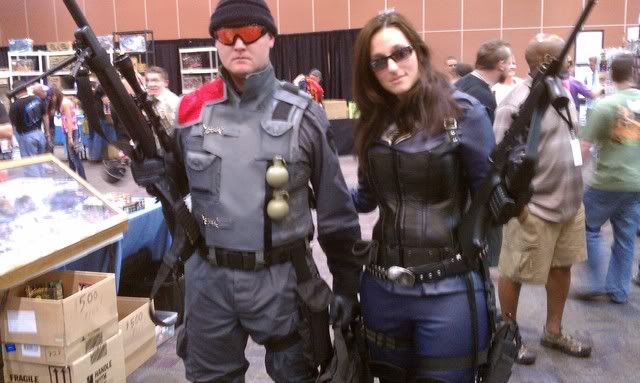 Low Light and the Baroness

Baroness

Snake Eyes

Snake Eyes

Zarana, Cover Girl, and Cobra Fem Trooper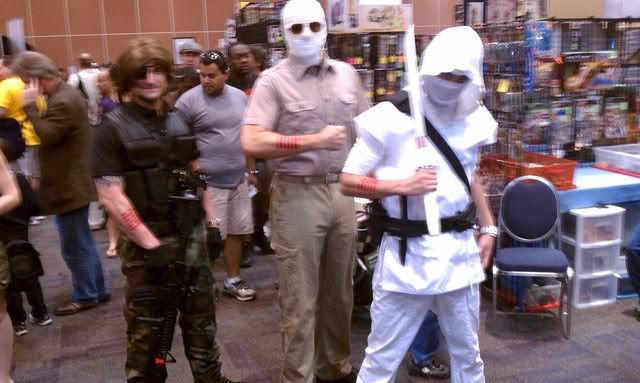 Clan Arashicage - Billy, Injured Snake Eyes, and Storm Shadow

Snake Eyes and Baroness

The Girls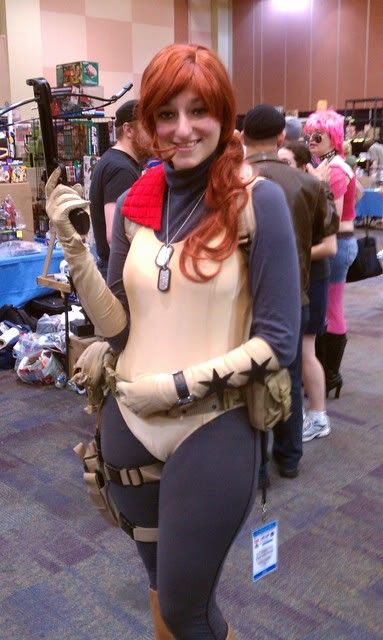 Classic Scarlett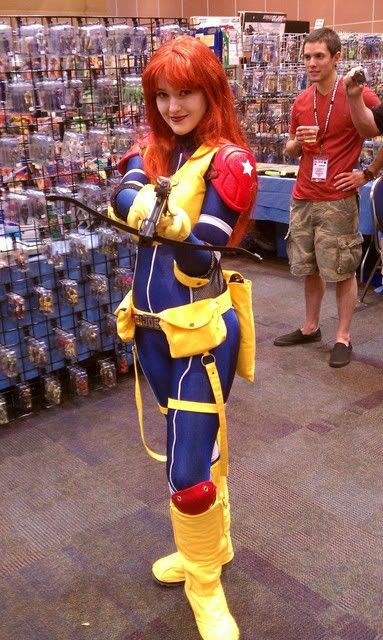 Americas Elite Scarlett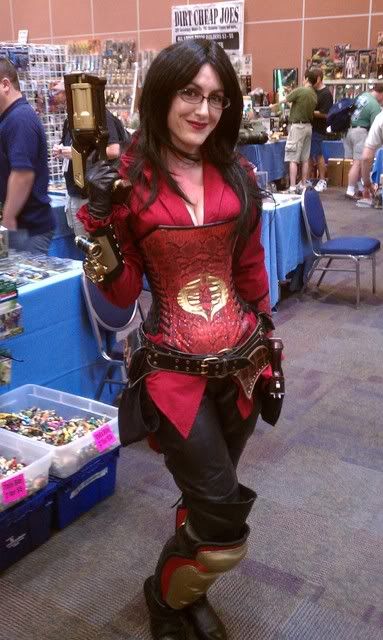 Steam Punk Baroness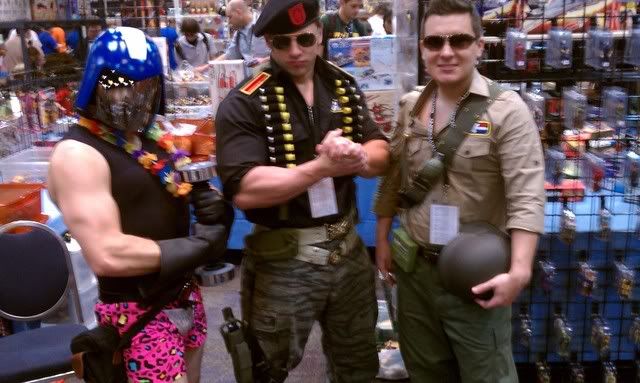 Spring Break Cobra Commander, Flint, and Duke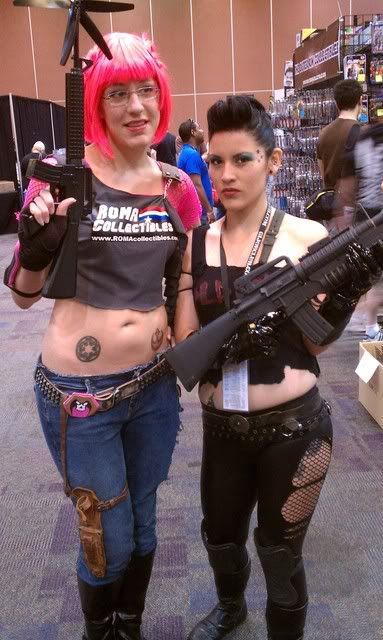 Zarana and SDCC Cold Slither Zarana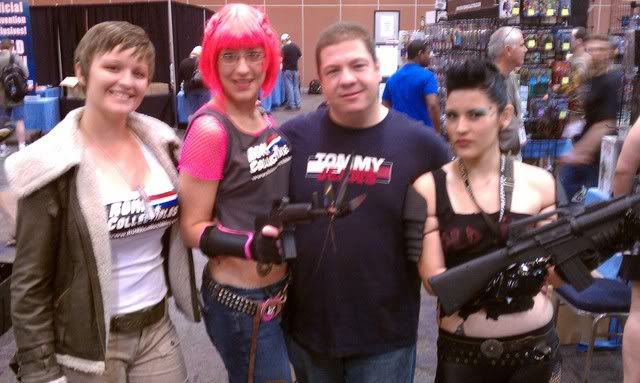 Our buddy Steve, and the girls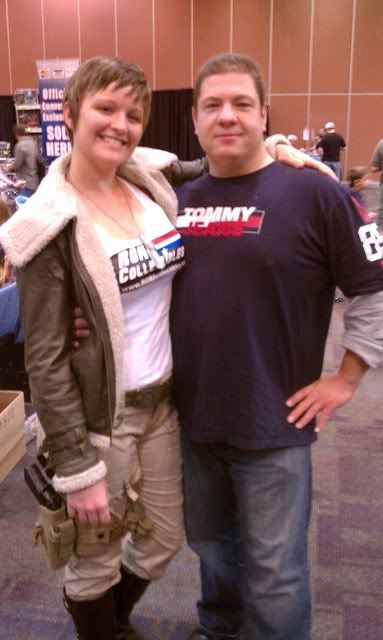 Steve and Cover Girl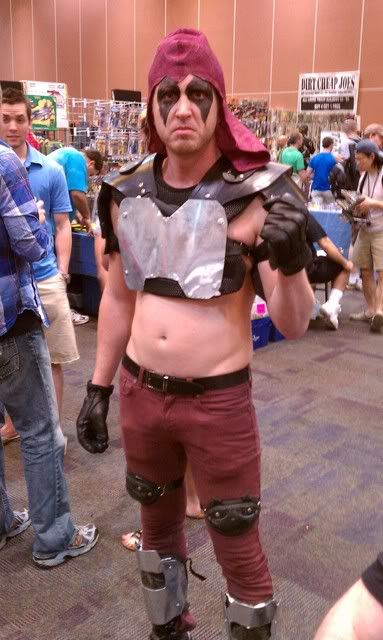 Zartan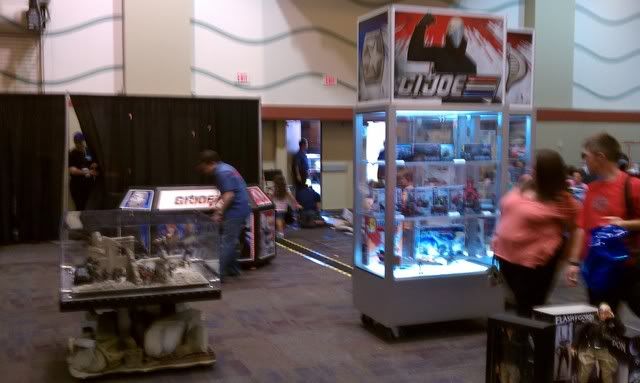 Hasbro Displays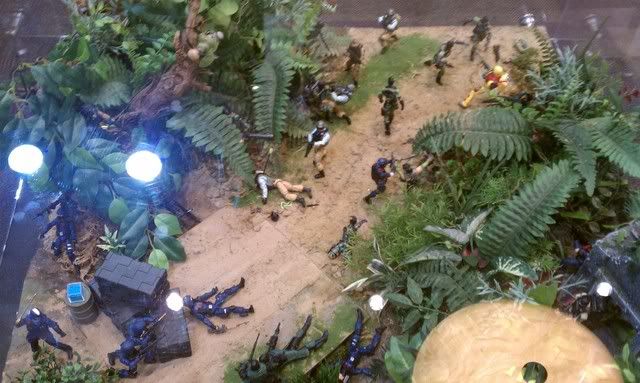 Jungle Dio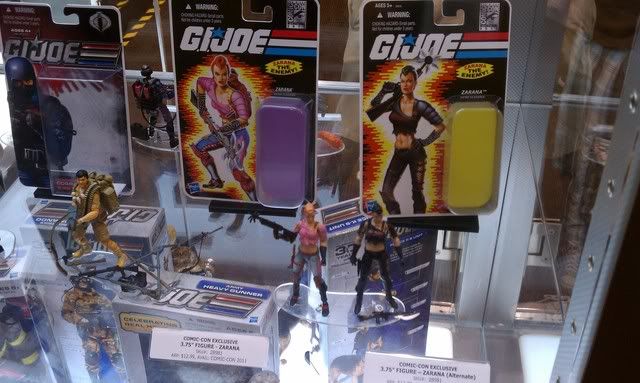 SDCC Zaranas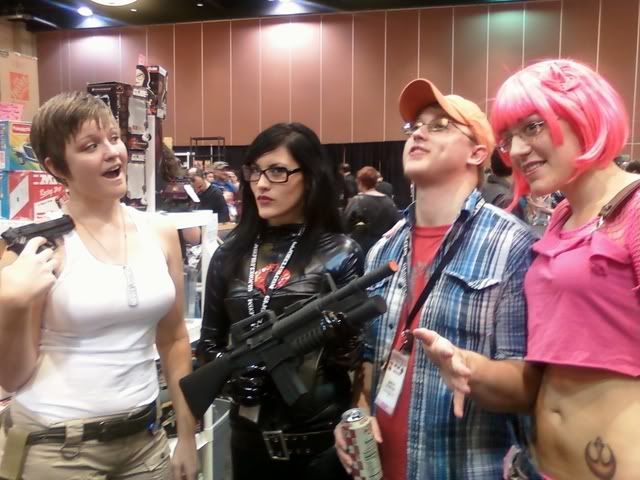 My boy brett and the girls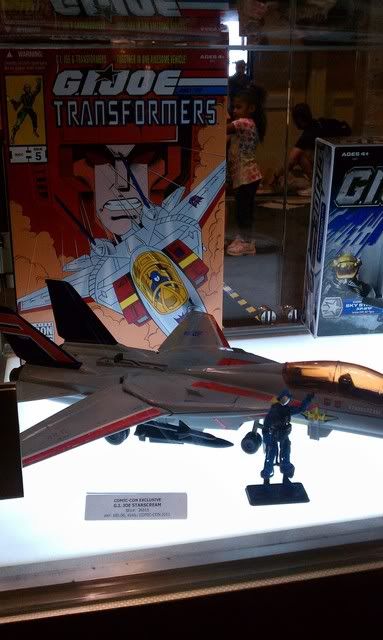 SDCC Starscream and Cobra Commander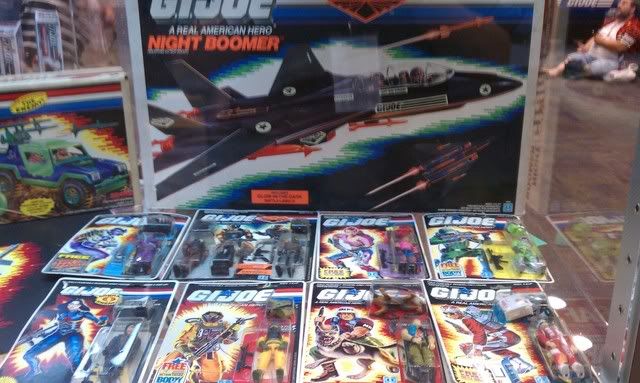 Night Boomer and Carded figures on display.

Custom cases? SWEET!

The Girls having fun

Scarlett and Snake Eyes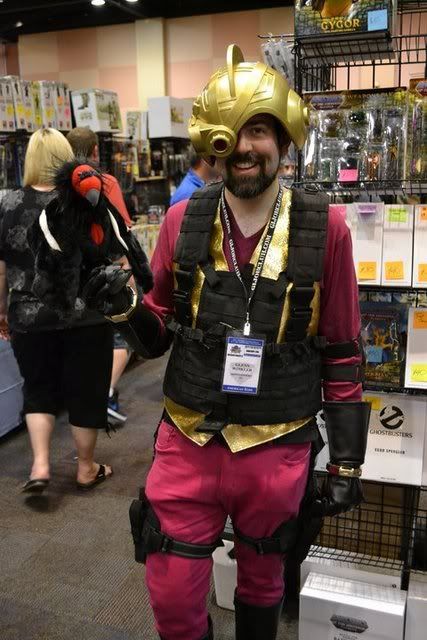 I know, you can't get enough Voltar. Neither cna I.

The Crimson Twins, Tomax and Xamot.

Cobra Commander gets all the chicks.

YO JOE!
Shipwreck, Cover Girl, Road Block, Bazooka,
Scarlett, Flint Snake Eyes, Jinx, and Low Light.

Flint and Duke

Bazooka and Ship Wreck

My Buddy Storm Shadow about to whoop up on some Joes.

And finally, me and my girls. I can't thank you two enough.